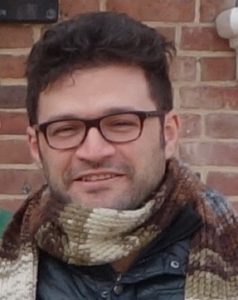 We would like to welcome Dr. Amin Aramoon, who recently joined the newly created Software Hub (SofHub), within Johns Hopkins University-Center for Integrated Structure Materials Modeling and Simulations (JHU-CISMMS) as the lead software developer/designer in November 2016.
Dr. Aramoon who holds a Bachelors and Master's degree in Civil Engineering from Sharif University of Technology in Tehran, Iran, has been a member of the Johns Hopkins University community since 2012. Upon his arrival in September 2012, he joined Prof. Jaafar El-Awady's Computational and Experimental Materials Engineering Laboratory (CEMEL) at JHU as a research assistant working on the characterization of properties of epoxy systems from coarse-grained MD simulations.
As Prof. El-Awady's graduate student, he was an active member of the Center of Excellence on Integrated Materials Modeling (CEIMM), which was funded by the Air Force Office of Scientific Research (AFOSR). He has since then completed his Master's and Doctoral degree in Mechanical Engineering with several scientific publications in international peer reviewed journals.
When asked what he liked about his current position, Dr. Aramoon's immediate response was, designing new software. In addition, he enjoys the opportunity to work with high quality researchers and collaborating with other institutions. He hopes that the SofHub will help create an engaging platform for the industry as well as academic research groups.
We are happy to have Dr. Aramoon as a member of CISMMS. With his knowledge and expertise, he will play an integral role in providing comprehensive computing support to researchers to translate their state-of-the-art research findings and research codes in a more user-friendly high performance platform for computational mechanics.